SPECIAL INSTRUCTIONS (SPINS)
This is the standing SPINS for OP URGENT FURY
ATC
Airfields
ATC Frequencies in use:
Al Dahfra GND: 126.1
Al Dahfra TWR: 126.2
Al Dahfra PAR: 126.3
Al Dahfra ATIS: 126.4
Al Dahfra Control: 126.9

Al Minhad GND: 121.1
Al Minhad TWR: 121.2
Al Minhad PAR: 121.3
Al Minhad ATIS: 121.4

Fujaira GND: 124.1
Fujaira TWR: 124.2

Bandar Abbas TWR: 118.200
Bandar Abbas ATIS: 118.400

FARP's
FARP LONDON: 230.500 (INDIGO 11)
FARP MADRID 231.750 (BROWN 8)

FLIP
Flight Information Publication in use are available here: FLIP Gulf Region
AWACS
HUMAN AWACS
When AWACS is manned by a human controller, all flights are to check-in on AWACS check- in on check-in frequency, unless otherwhose coordinated with AWACS controller prior to event start. AWACS may push flights to different frequencies depending on the situation.

AWACS Frequencies:
Check-in: 231.500 (GREEN 7)
A-G controller 1: 235.250 (GREY 6)
A-G Controller 2: 234.500 (PINK 9)
A-A Controller 1: 248.000 (GRAY 2)
A-A Controller 2 :229.000 (GREEN 4)
Air Request Net: 21.00
CSAR Freq: 233.000 (PINK 1)
In flight Report net: 228.000 (ORANGE 10)
Alert Frequency: 248.750 (GREEN 6)
Admin frequency: 238.750 (AMBER 2)
VHF Back-up: 122.250 (GRAY 10)



AI AWACS
If no human AWACS controllers are available, all flights are to check-in on check-in frequency and once checked-in, push to AWACS AI MAGIC frequency. Once RTB, flights are to check-out on AWACS check-in frequency prior to pushing to ATC.

AWACS AI Frequencies:
MAGIC: 301.0
FOCUS: 300.0

Additonal information about AWACS procedures, please have a look at: 132-TTP-10-AWACS Procedures v2.0
Aerial Refuelling
Tanker instructions
Altimeter setting. Unless otherwise directed an altimeter setting of standard pressure setting (29.92) is to be used for AAR operations.
Vertical separation. Receivers are to join from below and are to maintain a minimum of 1000ft vertical separation (unless otherwise directed by the controlling agency) , until visual contact have been made.
Clearance. Receivers must receive clearance from the controlling agency (AWACS) before contacting the tanker.
Joining procedures. The left side of the tanker is to be used for joining aircraft. The first receiver of a formation may join directly astern the boom, when the receiver has visually confirmed that no refuelling is in progress.
Tanker information
KC-135 MPRS:
CALLSIGN: SHELL
FREQUENCY: 247.500 (LIME 11)
TACAN: 38Y
LOCATION: See Weekly SPINS

KC-135:
CALLSIGN: ARCO
FREQUENCY: 240.750 (MAROON 7)
TACAN: 39Y
LOCATION: See Weekly SPINS

KC-135 MPRS:
CALLSIGN: TEXACO
FREQUENCY: 120.500 (WHITE 9)
TACAN: 10Y
LOCATION: See Weekly SPINS


Identification Friend or Foe (IFF) ( CURRENTLY NOT USED AS WE ARE USING SRS )
All flights are to use the following IFF codes :
MODE 1: 01
MODE 3: In Accordance With (IAW) Flight information
( ** CURRENTLY NOT USED AS WE ARE USING SRS ** )

Authentication
Authentication Encryption Table
Transmission Authentication Table
Color Coded Frequencies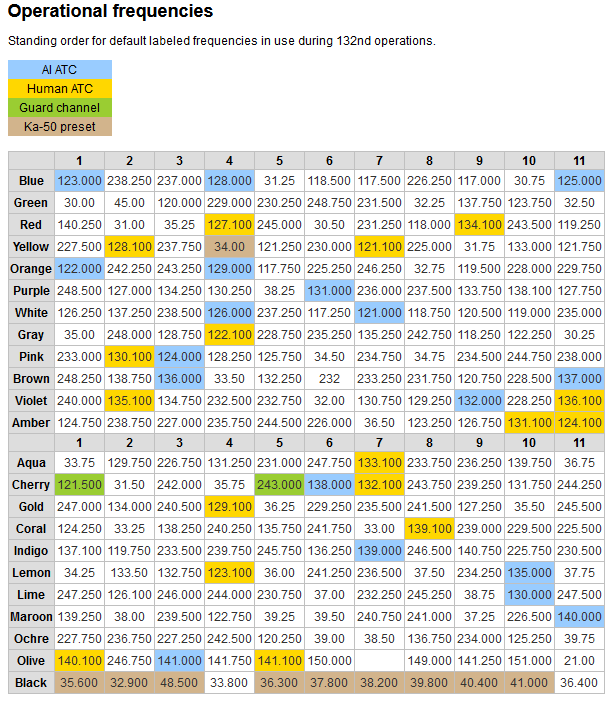 Back